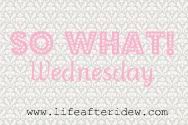 So What If....
this is going to be a complete Negative Nancy post....I'm in a bad mood and I'm having my very own pity party. And you're all invited! You're welcome!

my main Twitter topic lately is my boobs.

I turn to Twitter for advice on basically everything. I trust my Twitter peeps more than anyone.

I have days where I'm glad I have a job to escape to....I love being a mommy but sometimes it's so hard!

I'm bi-polar and I hate working and I want to stay at home.

I cry because my boobs are incompetent and I'm super dramatic and I want them to make plenty of milkies for my babe.

we had a couple meltdowns at the beach - at least we were at the beach, right??

I ignore the lack of cash flow in our account. If I don't look it's really not that bad.....

I cringe when TM starts screaming and other people are around. I don't want to look like I have no clue what I'm doing!

we took cash to the beach to eat out and spent 80% of it on clothes for the babe. She needs to look cute at all times!
I'm pretty sure I had lots more to complain about but let's be honest, I'm overly dramatic and hormonal and I'm sure you're tired of my pity party! Thanks for joining in.
Now go link up with Shannon and let's hear what you're saying So What to!
*If you're a new follower and you have a blog please leave me a comment and let me know! I'd also love to follow you on Twitter so let me know if I don't